Back to all posts
Posted on
ONE ACT PLAYS- MAY 16 TO 19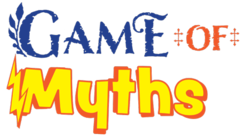 Paterson Productions Presents: An Evening of One Act Comedies
TICKETS AVAILABLE ON SCHOOLCASH ONLINE

- The Plucky Pie Murder : A Courtroom Comedy in One Act
Written by: Dara Murphy

- Game Of Myths : A comical competition between Greek deities of old…with a twist.
Written by: Jennifer Simmons
Online ticket sales open on May 2nd and end on May 18th at 11:59 PM.
Shows happen on May 16th, 17th, 18th and 19th at 7PM. Doors open at 6:30PM.

PLEASE BRING YOUR RECEIPT AS PROOF OF TICKET PURCHASE.
Limited Tickets available at the door at 6:30PM @ $7 each.

* Please double check the performance date BEFORE you complete your purchase - Is this the date of the performance you wish to attend? Depending on sales, tickets may not be transferable.
Showtime is 7pm, seats are limited, rush seating only.

Thank you for your support and enjoy the show!