Back to all posts
Posted on
Silent Auction is Now Live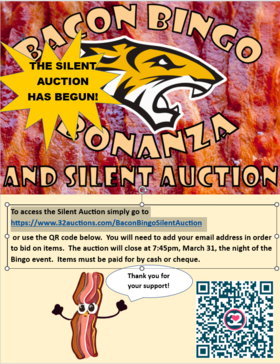 To access the Silent Auction simply go to
https://www.32auctions.com/BaconBingoSilentAuction
or Click the link below to see a QR Code to Scan 
Thank you to our sponsors and donators!
Join us for a night of bingo and entertainment! We will be entertained by both the GPMS Band and the GPMS Rock Band.  Bingo cards can be purchased for$1 at the door. This is a family activity, and kids are welcome to play as well. All purchases for bingo cards and concession will be cash only. The first bingo game starts at 6:30, but doors will open at 6:00 to allow for advance bingo card purchases.
As part of this fundraiser, there will also be a silent auction. All attendees will scan a QR code, or click on a link and bid online from school or from home. Silent auction winners can pay online via credit card or in person with cash.