Back to all posts
Posted on
Green Shirt Day in honour of Logan Boulet and organ donation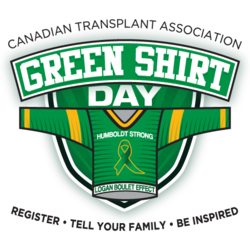 On April 6, 2018, Canadians were heartbroken to hear the news of the Humboldt Broncos bus crash. Of the 29 passengers, sixteen lost their lives and thirteen will all bear physical and emotional scars for life.
On April 7, 2018, Humboldt Broncos defenceman Logan Boulet succumbed to his injuries. His parents, Bernadine and Toby Boulet offered to donate his organs so that six lives could live on. They did so because Logan told his parents he was registering as an organ donor and that he was inspired by his coach and mentor Ric Suggitt. Ric passed on June 27th, 2017 and was also an organ donor and saved 6 lives.
Below is a video by Darryl Christianson with the assistance of GPMS students. We were blessed to have a special message sent to our school directly from Logan Boulet's parents to help us raise awareness to organ donation in our community.